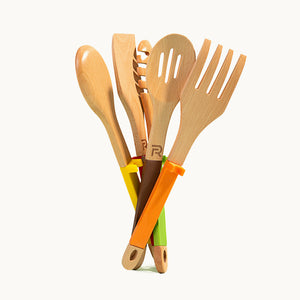 Cooking Utensils Set
Sale price Price $29.97 Regular price $35.97 Unit price / per
Tax included.
Shipping
calculated at checkout.
COLORFUL KITCHEN UTILITY- Brighten up your kitchen with the colorful convenience of these wooden spoons. Peerless kitchen utensils are crafted from eco-friendly beech wood with vibrant, comfy silicone grips to provide premium functionality for an array of cooking, meal prepping, and serving tasks, making them perfect for everyday use so you'll get the most use out of this set without having to purchase additional bamboo utensil set. 

A TOOL FOR EVERY TASK- Versatile wooden spoons for cooking offers a comprehensive wooden kitchen utensil set for complete utility: includes a standard spoon for stirring and tasting, a slotted cooking spoon for working with soups and sauces, a wooden spatula for prepping stovetop meals, a fork for serving salads or lifting meats, and a unique pasta wooden spoon for handling and serving spaghetti, Fettuccine, and more so you'll always be prepared for any cooking assignment. 

PRACTICAL ECO-FRIENDLY MATERIAL- Better than bamboo utensils, ours are strategically made with durable, nonstick organic wooden heads that won't retain food odors and won't scratch pots or pans, each implement is complemented with comfy CE-certified silicone handles that are heat-resistant to protect against high cooking temperatures so you'll never have to worry about damaging expensive cooking vessels or cooking around a hot stovetop. 

INNOVATIVE DESIGN AND PERFORMANCE- Unlike overhyped bamboo cooking utensils and cooking wooden utensils that are made from inferior material with fruitless designs, our premium beech wood set is carefully crafted with the most durable wooden heads, deluxe silicone handles, and a footed mechanism on the handle to elevate messy tools slightly off the counter to reduce cleanup and also ensure tools don't slip off the counter, so you can focus on cooking without distractions. 

LIFETIME MANUFACTURER'S WARRANTY- While many brands only promise superior wood cooking utensils products, we are so confident in the unrivaled craftsmanship and performance of our cooking & kitchen utensils that we guarantee complete satisfaction with your purchase, which is why we offer a lifetime manufacturer's warranty; if you're not happy with our wood cooking utensils set, simply send it back for a refund.
Bring a burst of functional color to your kitchen with the vibrant, versatile Cooking spoons & Serving Wooden Kitchen Utensil Set. Premium assortment of practical tools are designed to handle all of your cooking, prepping, and serving tasks. 
Deluxe selection of implements are crafted with durable, nonstick beech wood heads that resist sticky ingredients, won't retain food odors after use, and eliminate the possibility of scratching pots and pans, no matter how hard you work. Unlike common bamboo utensils or wooden utensils set on the market, each of our implements is equipped with high-performance rubberized silicone grips that are heat-resistant to ensure a comfortable, secure grip and protection against high cooking temperatures around the stove. 
With each tool being styled with a colorful handle, simply hang up wooden utensils in your kitchen with the holed end to add some beautiful liveliness to your decor. So whether it's stirring soups, flipping omelettes, or serving out pasta, make sure you're prepared for any cooking task with this deluxe wood utensils set.
Includes:

13" fork utensil with orange handle
13" spatula utensil with red handle
13" pasta spoon with green handle
13" standard spoon with yellow handle
13" slotted spoon with brown handle

Durable eco-friendly beech wood spoons for cooking resist sticky ingredients for easy cleanup and won't retain food odors after use
Rubberized silicone handles offer a secure, comfortable grip
Footed mechanism on each handle with holed ends for hanging purposes
Comes neatly-packaged, making it a perfect gift for any chef or culinarian
BPA-free and FDA-approved
Hand wash only