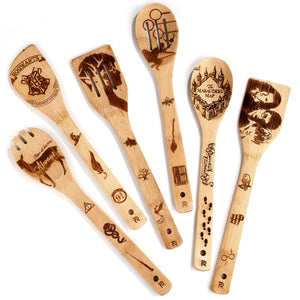 Christmas Gift for Mom Wooden Spoons For Cooking Utensils Set 6-piece for Nonstick Cookware
Sale price Price $19.97 Regular price $39.97 Unit price / per
Tax included.
Shipping
calculated at checkout.
BRING WIZARDY UTILITY TO YOUR KITCHEN- Experience the magic practicality of these wooden spoons for cooking. Whether it's cooking or serving, this functionally versatile organic kitchen utensils set makes a reliable bamboo utensil set for every task or as gifts for cooking lovers, providing spoons to flip ingredients, taste sauces, and serve prepared meals, so any cooking wizard will always have the right kitchen tools while meal prepping or cooking.
OFFERS AN ARRAY OF TOOLS- Cooking utensils set is crafted for performance and features emblazoned imagery of your favorite wizard movie, making them the perfect gift for any fan's birthday or as a housewarming gift. Wooden spoons set is sculpted with smooth handles and comes with a slotted, solid, and turner wooden spatula for flipping mixing as well as a solid and slotted wooden spoon for preparing sauces and tasting soups simple. Extra spoon fork is perfect for sipping, eating, or serving.
ORGANIC, ECO-FRIENDLY DESIGN- Unlike cheap wooden spoons on the market today that deteriorate over time, this wizardry spatulas for nonstick cookware are crafted of organic nonstick bamboo for lasting use. With odor and stain-resistant properties, this organic kitchen utensil set won't scratch your pots or pans and won't retain blemishes from cooking certain meals, so you can cook fresh every new meal. Makes a great gift for any man, woman, son, or daughter that's a fan.
DURABLE & EASY TO CLEAN- With sustainable bamboo construction, this superior wooden spatula set can be simply washed with warm soap and water and wiped clean. Nonstick, durable bamboo resists moisture, so you'll never have to worry about mold accumulating on your tools, and you can enjoy extended everyday use for a variety of cooking tasks, which makes them great kitchen decorations or gift for any cook's birthday, housewarming gift, or Christmas present.
LIFETIME MANUFACTURER'S WARRANTY- Our high-quality bamboo cooking utensils are guaranteed to last and impress even the most demanding cooking wizard, which is why if you're not 100% satisfied with your purchase of wooden spoons for cooking, simply send these wooden spoons back for a full refund.